Ref:
Date:
Location:
Photographer:
Ref:
Date:
Location:
Photographer: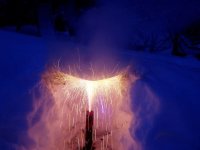 02/11/17
Multi-media artist Mark Kelly is well known in the Rockland and Belfast area for drawings, sculpture, and other art media. He has been fascinated with fire, and how to use it to create art, for quite a while and the results are fascinating. One technique he has been using involves capturing the marks made by burning fireworks.
Kelly says: "The fireworks drawings are the result of my intentionally setting up a specific arrangement of fireworks on paper, and setting them off to see what happens - capturing the ethereal pyrotechnic phenomena that usually dissipates into the air. Similarly to how a photographer would capture some fleeting bit of life on film, I am capturing the fireworks' effect on paper. The process is of utmost importance, and completely dictates the result here - they are initiated, but not manipulated."
Another medium he has explored extensively is creating sculptural assemblages from found objects. In describing these, he says: "These pieces are a celebration of the beauty I find in the world. Not an obvious beauty per se, but that of the overlooked, the worn-out, the stuff that (sometimes literally) falls into the cracks."
Opening reception on Friday November 10, from 4 to 7 pm. Come on by, for a warm and exciting surprise, and celebrate (or at least make the best of!) the transition into darker nights.